Sweet Owen Sound is a complete video authoring service.  I create commercial video in studio or on location, call for more information.
I shoot recital video on campus at JSoM, and audition videos in my studio or on location.  I use techniques and equipment similar to documentary film makers.  Pictured below is my Sound Device 702 stereo audio recorder.  It is state of the art in digital audio recording and simply the best audio recorder on the market today.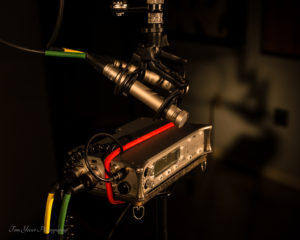 I shot video with a Nikon D800 camera and a Ninja II video recorder.  This allows me to capture 1920 x 1080 progressive video at 30 frames a second.  The recorder is usually set a ProRes 4:2:2 which is a nearly uncompressed codec and captures about a gigbyte of data a minute.  Recitals are usually about 85 gigbytes of raw video data.
The kind of lighting corrections that are necessary considering the available light in the university recital rooms is much more effective when their is very little compression in the raw video recording.
While pocket recorders and prosumer video cameras are everywhere they simply do not provide the broadcast quality results that my equipment provides.
My DVDs include a two level menu where you can play the entire recital or select individual pieces.