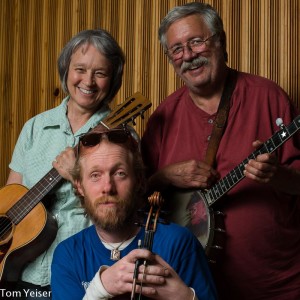 The Greene County Noodlers are Joe Fulton, fiddle, Randy Marmouze, banjo, Teri Klassen, guitar.
In many ways this recording was conceived and produced like the radio recordings from the 1930s, and it takes some nerve to record so honestly. Everyone recorded together in the live room at the same time. Each tune was played two or three times from beginning to end. Some of the tracks made it to the album in a single take, some with a few edits.
Here are a few studio notes;
– The group recorded in 2013,
– The entire album was recorded in two sessions,
– The album contains 18 tracks,
– The fiddle was recorded up with an AEA R84 ribbon microphone which is the classic RCA 44 big ribbon design, heard on untold numbers of recordings made since its creation in the 1930s. Missing are the harsh overtones that modern condenser mics impart.
– The album features the sound of the live room, no additional reverberation (reverb) has been added. If a room sounds this good why mess it up with reverb?
More about the musicians;
– Joe Fulton also plays with The Tallboys,
– Randy Marmouze plays with the Humdingers, and Easy Street String Band,
– Teri Klassen plays with Easy Street String Band.
Here are two tunes from the album you can hear on Soundcloud;
1. Tennessee Mtn. Foxchase
2. Roscoe's Gone