Audio only recordings are usually delivered on audio CD. These are fully indexed so you can advance or back up by the track. Recital information is printed directly on the CD. If you would rather receive the audio files in the original data format you are welcome to, these are good items to have for your archive and are delivered on a data disk or you can copy them to your own storage device.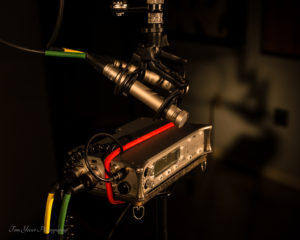 Sweet Owen Sound uses classical recording techniques to make room recordings of recitals. I use a single microphone stand placed near the first or second row of the hall. It is a thin black stand that extends up about 10-11 ft. Since the placement of microphones is critical to making professional room recordings I will need your permission to place it correctly. I will not record a recital if I do not have permission.
I set up as soon as the room is available. When the microphones and recorder are set up I will ask you to play the loudest passage of your recital.  This allows me to adjust the recording device. Please give this some thought, not making this simple adjustment can ruin the quality of an audio recording.
By arriving early, setting up quickly and explaining what I need from you before the recital I hope to minimize the amount of time you will actually spend with me before your recital. These are important steps that ensure a very good recording, thanks in advance for you understanding and help.
For more information please send a Recital Information Contact Form. Thank you.